Machine Learning for Metamaterial Design
The onset of photonic metamaterials offers unprecedented levels of control of light-matter interactions. This can be used to manipulate the exchange of thermal energy by radiation for heating, cooling, and clean energy applications. Creating photonic metamaterials with desired optical properties (e.g. spectral reflectivity profile) requires designing geometric features and selecting appropriate material combinations. This is currently a manual process requiring extensive expert input and training, expensive computational resources, and slow physical experimentation. We are developing learnable generative models for automating and accelerating this design process. Our algorithm takes desired optical properties as input and rapidly generates multiple candidate designs, subject to constraints, that produce those desired properties.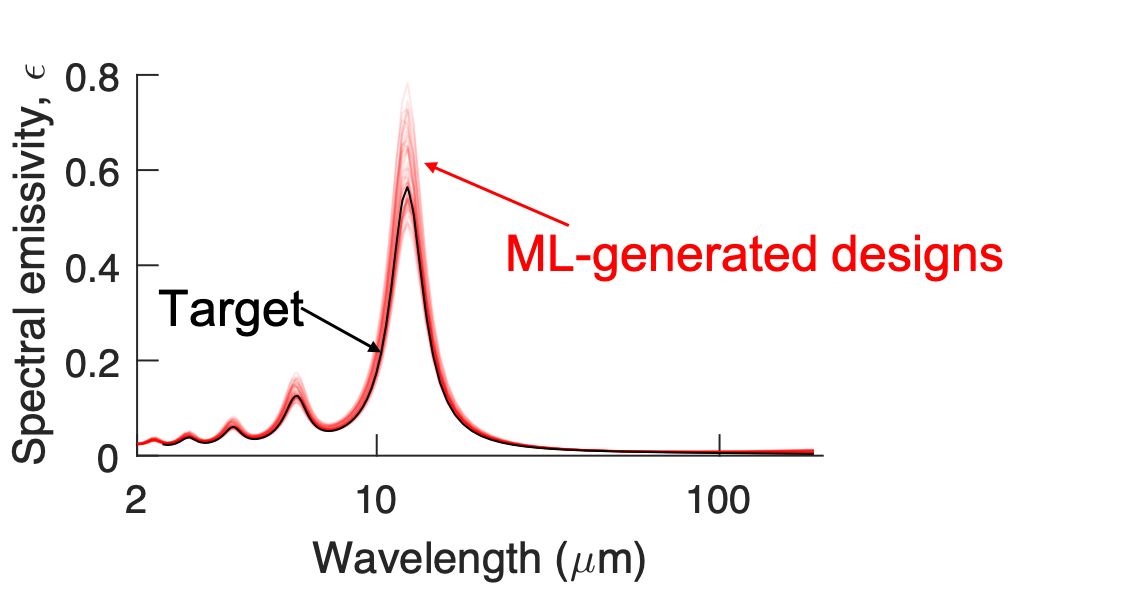 To train our algorithms, we are generating a database of structures and their corresponding optical properties. Our data includes high-fidelity numerical simulations, experimentally generated and measured samples using high-throughput pulsed laser machining, and a consolidation of data algorithmically scraped from the literature. Once refined, our database will be made available to the public for the benefit of the broader research community. This project is funded by ARPA-E and in collaboration with Vassilia Zorba, Anubhav Jain, and Prof. Andrei Fedorov at Georgia Tech.